LG U+ has implemented 1.33Gbps data download speed for the first time in South Korea for commercial network of 5G. It is 10 times faster than LTE transmission speed. LG U+ is going to apply LTE network to 5G in next month and implement maximum speed of 2Gbps.  LG U+ implemented download speed that is approaching the highest speed based on 3GPP standards through commercial network and test terminals installed near LG Magok Science Park in Gangseo-gu, Seoul on the 26th. It is close to 1.33Gbps, which is the highest speed based on 5G NR that was introduced by international standardization organizations.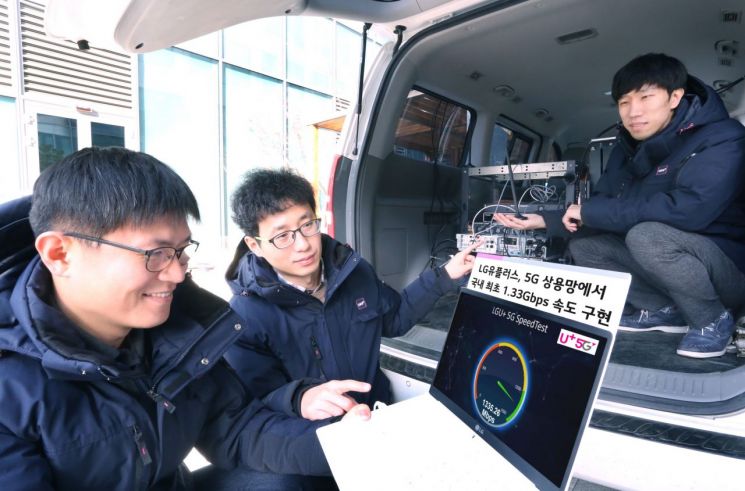 This is 10 times faster than the average download speed of LTE service, 133.43Mbps. It is also the fastest speed that LG U+ can implement within 80MHz bandwidth of 3.5GHz frequency bandwidth that is allocated to it. Although 3 mobile telecommunication businesses sent out their first 5G network on the 1st, LG U+ is the first one to implement maximum speed through commercial network. LG U+ is going to combine 5G commercial network and LTE network next month. Its goal is to have maximum speed of 2Gbps. LG U+ is going to establish more than 7,000 base stations at the end of this year after.
"We have completed verification of maximum performance by linking 5G devices, which are important parts of commercialization of 5G, and we are planning to thoroughly prepare them for improvement and stabilization of 5G performance as quality of customers is high in the future."

Lee Sang-heon of LG U+ NW Development Party.
What's your thoughts?
+1
+1
+1
+1
+1
+1
+1