The greatly anticipated  'Galaxy S10' by Samsung Electronics, will be released as the world's first 1 terabyte (TB) storage smartphone.
The device heralds performance that is unmatched any other. 1TB smartphones are expected to be boast of performance that can match some premium laptops.
Samsung Electronics stated on the 30th that it will start mass-producing 1TB eUFS 2.1 starting this month. Samsung earlier took market lead after creating a universal flash memory (UFS) market by mass-producing 128GB eUFS 2.0 for mobile devices in January 2015.
The company has effectively doubled doubled its storage capacity from last years version. Samsung Electronics has 16 layers of 5th generation 512GB V-NAND flash, which has the fastest speed in the industry.
It is likely that Samsung Electronics will apply this product to its flagship model, the 'Galaxy S10', which will be introduced at the end of next month. Galaxy S10 is the first major Smartphone manufacturer to support 1TB of memory without adding an external memory card. It is heard that Galaxy S10's best model is equipped with 1TB of memory (NAND flash) and 12GB D-RAM.
1TB Smartphones can store up to 260 videos that were taken in 10 minutes in UHD setup mode. It takes only about 5 seconds to transfer 5GB UHD images stored on Smartphones to NVMe SSDs.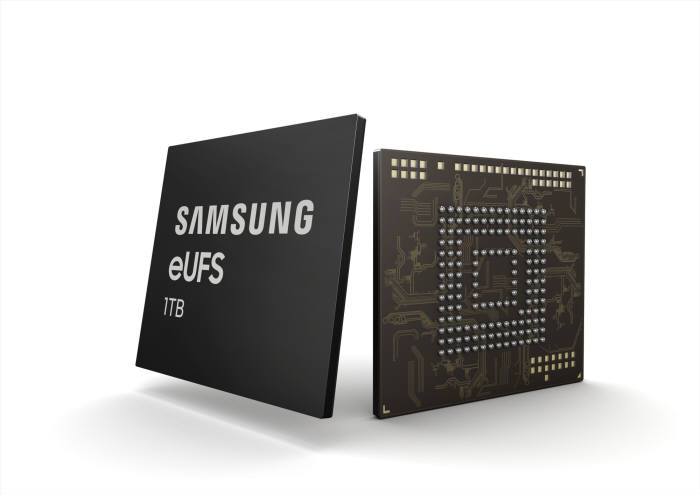 '1TB eUFS' has increased random read and write speed by up to 38% compared to 512GB eUFS, which is a previous product. Compared to SATA Solid State Drive (SSD), continuous reading speed is about twice as fast as 1000 megabytes (MB) per second. It is more than 10 times faster than microSD, which is usually used by ordinary people to increase capacity of Smartphones. Random writes are 500 times faster than micro SD cards (100 IOPS). Handle complex tasks faster and smoother with large data. Its flagship function is to continuously capture 960 frames of high resolution super-slope images per second by using multi-cameras.
There is a high chance that other global manufacturers, led by Samsung Electronics, will also participate in high capacity of mobile memories. Samsung Electronics is planning to actively respond to increase in demands for ultra-high-capacity memory that is greater than 1TB in eUFS and SSD markets. To this end, it is going to focus on 5th generation V-NAND from its Pyeongtaek line and mass-produce them during first half of this year. Production ratio of 512Gb V-NANDs is also rapidly increasing.
"1TB eUFS is a differentiated memory solution that implements user convenienㅁce as a premium laptop in next-generation mobile devices. By establishing a secure supply system, we will help global mobilie companies release their next-generation models in a timely manner and contribute to the continued growth of the mobile market."

Vice-President Choi Cheol of Samsung Electronics
What's your thoughts?
+1
+1
+1
+1
+1
+1
+1